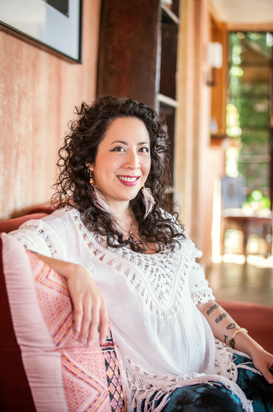 My name is Margarita Alcantara. And, I have a habit of carving out my path in unconventional ways.
With roots in punk rock and zinemaking, I had a background in the music industry, writing, performance art, and community activism, turned Warrior of Light. And, I'm all about owning whom you are meant to be!
I struggled with emotional balancing when I was growing up, and denied my gifts on the regular. That put me on a direct (and often challenging) personal path to healing, deeply, from the inside/out. Conventional therapies helped, somewhat. But, what really got me back in my power was getting in touch with my self, my heart, my intuitive abilities, and never looking back!
That looked like: honoring (and listening to) my ancestors, learning Acupuncture, Reiki, and Shamanic Medicine (as well as the other therapies I love to share with my patients!), non-negotiable self-care like daily meditation, only eating foods that bring vitality to my Body, Mind, and Spirit, getting in touch with my Team of Light and connection to Source, and doing things that celebrate my Being.
I am committed to elevating the Goddess Consciousness on our planet, and activating the Goddess codes that are dormant in other Goddess.
Margarita Alcantara is a Mouthpiece for the Goddess Consciousness, an embodiment of Mother Gaia, Conduit Between the Star Nation and Mother Gaia, Chakra Expert, and Catalyst for Awakening. As a Licensed Acupuncturist, Reiki Master/Teacher, and Medicine Woman, she specializes in helping her patients awaken into their spiritual badassery at her private practice, in the heart of New York City. Her weekly Saturday Facebook live event, the Mother Gaia Power Portal, is infused with high vibrational energy transmissions from the Goddess. Her book, Chakra Healing: A Beginner's Guide to Self-Healing Techniques that Balance the Chakras, was released last year from Althea Press.
If you want to own your Goddess Power like it's your job (because it is!), then I'm your guide on your journey.
Whole-Person Wellness
Establishing a great connection with you is tantamount. I listen attentively and give your needs thorough attention to the full spectrum of your healing needs. I then develop a wellness plan tailored specifically to you.
In addition to Acupuncture and Reiki, I have a rich knowledge base of multiple adjunctive Acupuncture therapies and wellness disciplines, as well as MedicineWay Practices, which are integrated into your treatment as needed. If necessary, I will also work in conjunction with primary care physicians or specialists in treating any particular condition you may have.
And, because physical healing is connected to spiritual and emotional healing, I provide guidance as your treatment activates the release of physical, spiritual, emotional, and other blockages.
Credentials
Medicine Woman/Shamanic Practitioner, initiated in the Mayan/Toltec tradition
Licensed Acupuncturist in the states of NY, NJ, and CT
Masters of Science in Acupuncture (M.S.Ac.), Pacific College of Oriental Medicine
Comprehensive studies in Acupuncture, oriental medicine theory, anatomy and physiology, nutrition, and Western diseases
Clinical training, Pacific College Acupuncture Clinic and Grand Meridian Community Clinic
Diplomate in Acupuncture, National Certification Commission for Acupuncture and Oriental Medicine (NCCAOM)
Certification in Clean Needle Technique, Council of Colleges of Acupuncture and Oriental Medicine (CCAOM)
Certified Reiki Master/Teacher, White Light Reiki, and Karuna Reiki Master
Completed 31 hours of training in Essential Oil Therapy based on Chinese Medicine and Chakra Healing
Member, Acupuncturists Without Borders
In the Community
I am a contributing writer to The Huffington Post, and popular wellness and mindfulness websites, mindbodygreen and Elephant Journal. In addition, my blog posts and email newsletters/love notes provide subscribers with free inspiration to owning their power with grace and ease.
I've volunteered my services at Wellness Days for The Audre Lorde Project's 3rd Space Support Program's Health and Wellness Collective, a group of professional healers who provide health care for Lesbian, Gay, Bisexual, Two-Spirit, Trans, Gender Non Conforming people of color, HIV+, low income (im)migrant and/or people living with a disability. I also worked at St. Ann's Corner of Harm Reduction (SACHR) in the Bronx, where I performed auricular/ear (NADA) and full-body Acupuncture on populations recovering from addiction and homelessness, and was part of the team at Ariele's Apothecary, a wellness center in Hoboken, NJ. I am trained by Acupuncturists Without Borders to create on-site Acupuncture clinics for disaster centers. During Hurricane Sandy, I helped set up Acupuncture clinics in the New York metro area.
Background
I was initially drawn to Acupuncture, Reiki, and MedicineWay through my general interest in medicine and the healing of my own health issues, particularly that of emotional rebalancing. Having a Western doctor as a father, I quickly became familiar with the strengths of Western medicine, and developed an interest in how Eastern and Western modalities could work together to create wellness.
I am classically trained in opera, ballet, and Filipino Weapon Fighting, with a background in community organizing, writing, and performance art. I was also a 10-year Editrix of self-published magazine, Bamboo Girl Zine. Because of this, I am uniquely aware of the needs of those seeking to empower themselves in creative ways. I am uniquely qualified to offer not only my knowledge of Acupuncture, Reiki, and Traditional Shamanic Healing, but also a compassionate alliance with those who are ready, and open, to transform into the radiant beings they know they are.
I enjoy maintaining my personal health through Reiki, Acupuncture, MedicineWay practices, interval training, martial arts, meditation, cultivating mindfulness, healthy and organic foods, herbs and infusions, writing, laughter, and connection with loved ones. Prior to my graduate studies, I received my Bachelor of Arts with an emphasis in Communications from New York University's Gallatin School of Individualized Study.