It's Chinese New Year!  (Or to be more accurate, it was still the start of the New Year 1.5 hours ago!  But then again, this celebration lasts for 15 days, so it looks like I'm just in time!)
This is the year of the Metal Rabbit.  No, that doesn't mean they like to listen to Slayer, wear band tee shirts, and swing their long hair in unison with each other.  In fact, the metal aspect refers to the five elements:  Wood, Fire, Earth, Metal, Water.  The Metal gives the Rabbit strength, resilience and determination.  The Rabbit itself is a well-loved animal in the horoscope, because it symbolizes speed, strength, and kindness of heart, among other things.
The Rabbit is the fourth year in the twelve year cycle of the Chinese zodiac.  According to those who follow Chinese horoscopes, this year should prove to be more calm and a bit of a respite, compared to last year's Tiger fiery fiestyness and upheavals!  I don't know about you, but I like the sound of that!
I didn't get to see the traditional lion dances in Chinatown earlier today, but I was able to check it out 2 years ago.  That was mainly due to the fact that I worked at Kamwo at that time, where I managed, and helped process, incoming Chinese herbal formula orders, as well as work the floor (acupuncture/moxa/cupping/plasters/other supplies, sometimes bulk herbs.)
Kamwo is the largest Chinese herbal pharmacy in the East Coast, and I learned a lot just by being there.  They always had a rice cooker steaming up in the basement, and sometimes they made soups with herbs.  Being part Chinese, amongst my all-American "mezcla"-ness, I was able to appreciate all of this ("mezcla" means "mixed" or "blend" in Spanish, and some of my patients in the Bronx have given me that affectionate term, after learning of my mixed ethnic background.)  I learned a few Cantonese and Mandarin words, as well as how to write some characters, though mostly in relation to orders!
When Chinese New Year came around that year, we all had the holiday off.  But before then, festivities were already underway.
I was processing orders with my coworkers, when I started hearing a lot of cymbals banging and clanging.  Soon, it was followed by a big yellow dragon, jerking and diving down the street (with dancers animating it from underneath, of course!)
My coworkers and I shared many mooncakes that day.  Mooncakes are Chinese pastries with an egg yolk crust filled with lotus paste.  Yum!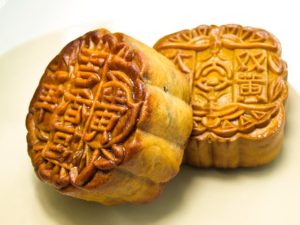 But that was only a tidbit of the actual festivities, which often involves lots of lion dances, firecrackers, cymbals, and crowds of people in the streets.  My Chinese coworkers would relay their stories to me of the hotpots – putting a gigantic cooking pot on the lazy suzan in the center, and taking turns cooking in it.  It's usually a big social feast, and this holiday's the biggest one of the year on the Chinese calendar!
How do you know if you're a Rabbit?  People born in 1915, 1927, 1939, 1951, 1963, 1975, 1987, 1999, and 2011 are all Rabbits.
Some famous Rabbits are:  Drew Barrymore, Billie Holiday, Lars Ulrich (ok, so I suppose some Rabbits do swing their long hair, or, what used to be long hair), Angelina Jolie, Brad Pitt, 50 Cent, and Coolio.
How can you honor the Chinese New Year?
Wear Red – The color of joy and good luck in Chinese Culture.
Give a Gift – The Chinese like to offer fruits (oranges, dried fruits), nuts and cakes to relatives and friends.  Others give little red envelopes filled with money.
Clean the House – For the symbolic new year fresh start.
Decorate the House – Especially with plants such as plum blossoms, to ring in fresh beginnings.
See a Dragon Dance – This is one thing that is a must-see at least once in your life!
Enjoy the next 14 days (and beyond!)
Copyright © 2011 by Alcantara Acupuncture & Healing Arts. All rights reserved. You may quote, copy, translate and link to this article, in its entirety, on free, non-donation based websites only, as long as you include the author name and a working link back to this website. All other uses are strictly prohibited.